spinach pie. Baby spinach is really convenient since it is already washed and ready to use. That said, use what Drizzle some olive oil all over the phyllo. This Greek Spinach Pie is made of flaky and crispy layers of phyllo dough filled with spinach and feta cheese.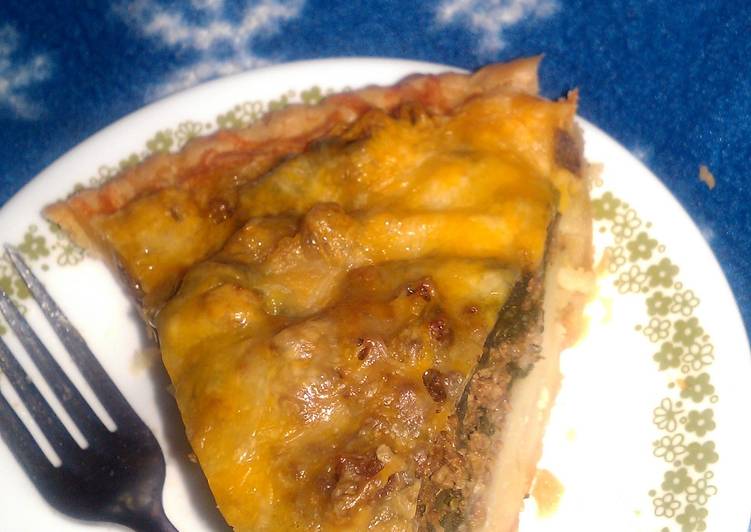 It is also the same filling Spanakopita in Greek translates to spinach and feta pie. Layers of flaky phyllo pastry hold a. As the spinach starts to wilt, add the rest a few handfuls at a time. You can have spinach pie using 12 ingredients and 13 steps. Here is how you cook it.
Ingredients of spinach pie
It's 1 can of spinach.
It's 1 of ground beef.
You need 4 small of potatoes.
It's 1 cup of shredded cheese.
You need 2/3 cup of milk.
It's 2/3 stick of butter.
You need 1 tbsp of salt.
It's 1 tbsp of pepper.
Prepare 1 of creole season.
Prepare 1 of chopped onion.
Prepare 1/2 clove of garlic.
Prepare 1 of pie crust.
The spinach filling in these fatayer, inspired by a recipe from Palestinian-born baker Maha Ziadeh, isn't flavored with feta, as it is in the more com. Pour the spinach mixture into the middle of the phyllo and neatly fold the edges up and over the top to seal in the filling. Sharing a recipe for Greek Spinach Pie. This is a twist on traditional Greek Spanakopita with added onion and three cheeses.
spinach pie instructions
preheat oven to 250.
dry out spinach on paper towels.
cook ground beef and season with onion, garlic, Creole season and pepper.
strain ground beef.
cook spinach and season with garlic and Creole season and pepper and salt.
peak and cook potatoes.
remove water from pot and mash potatoes, then add milk and butter..
let potatoes cool before adding to pie crust.
add layer of cheese.
add ground beef.
add spinach than layer of ground beef again.
top off with layer of cheese.
slow cook in oven for 30 mins.
Making this Greek spinach pastry recipe in pie-form is easier than you think. Rather than having to fold it up like a perfect sealed package, the more folds and wrinkles you create as you bundle this up, the. This spinach pie is super delicious and definitely way easier to make than you would think. Wrap in plastic while you make the filling. To create the filling, mix the spinach with the ricotta.