Carrot Cake with Walnuts and Cinnamon. For a gluten-free carrot cake, swap the flour for your favorite gluten-free flour blend. Baking soda helps the cake to rise. Salt, cinnamon, and vanilla extract make the cake taste amazing.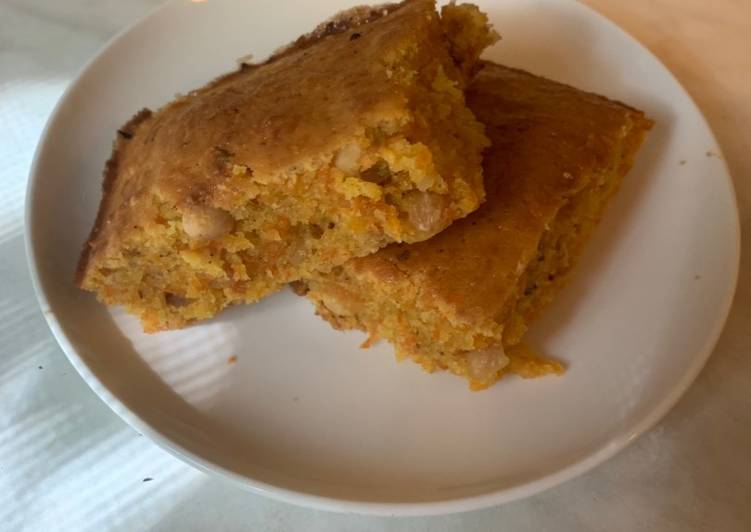 With warming cinnamon, crunchy walnuts and velvety cream cheese frosting, it's a real winner. Enjoy with an afternoon cuppa, and refrigerate the rest for later. Individual carrot cakes topped with a pistachio and cream cheese icing and marzipan decorations. You can have Carrot Cake with Walnuts and Cinnamon using 11 ingredients and 5 steps. Here is how you cook that.
Ingredients of Carrot Cake with Walnuts and Cinnamon
It's 2 of eggs.
Prepare 150 g of sugar.
You need 200 g of flour.
It's 2 of carrots.
You need 50 g of butter.
You need 50 g of walnuts.
Prepare 1 of coffee spoon of olive oil.
You need 1 of coffee spoon of baking powder.
Prepare of Cinnamon.
You need of Vanilla.
Prepare of (You can also add raisins).
Add the carrots, walnuts, flour, baking powder, bicarbonate of soda and cinnamon and fold in to combine. These rolls are carrot cake inspired with fresh shredded carrots inside a spiced and yeasted cinnamon dough. The filling is rich and sweet, studded with raisins and walnuts… All the goodness of carrot cake, deconstructed and brought back together again. Although carrot cakes are usually made as round cakes with multiple layers, I like mine simple, baked in a loaf and eaten alongside coffee or tea.
Carrot Cake with Walnuts and Cinnamon instructions
Mix eggs with sugar. Add melted butter and olive oil..
Grate carrots. Crush walnuts in small pieces. Add everything to the butter and mix well..
Add cinnamon, vanilla add flour with baking powder. Should be a consistency of thick sour cream..
Cover baking pan with parchment paper, if you don't have parchment paper you can cover pan with butter. Purr the butter in. Bake 30min in the 200°C oven..
Decorate with sugar powder.
I made this cake but I used cardamom instead of the cinnamon and cloves and it came out delicious. So light and airy and extremely flavorful. Add walnuts, pineapple and carrots and mix until thoroughly combined. Carefully fold in enough milk to make a batter (not too sloppy or stiff). Try adding a teaspoon of cinnamon and/or cardamom.