Shortcut Chicken Pot Pie.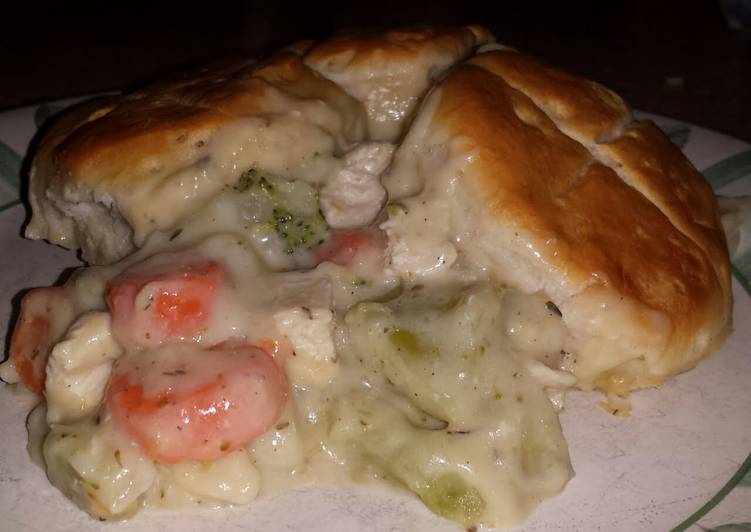 You can cook Shortcut Chicken Pot Pie using 11 ingredients and 11 steps. Here is how you achieve that.
Ingredients of Shortcut Chicken Pot Pie
Prepare 1 lb of chicken breasts (boneless, skinless).
It's 16 oz of Normandy or California Blend frozen vegetables (broccoli, cauliflower, carrots).
Prepare 1 each of potato, large.
Prepare 1 cup of milk.
You need 1 can of cream of chicken soup.
You need 1 can of cream of broccoli soup.
It's 1 can of cream of mushroom soup.
You need 1/2 tsp of dried thyme leaves.
You need 1/4 tsp of black pepper.
It's 2 can of refrigerated biscuits.
You need 1 tbsp of vegetable oil.
Shortcut Chicken Pot Pie instructions
Preheat oven to 400°F..
Heat oil in skillet over medium heat. Add chicken breasts to skillet and cook until no longer pink..
Cut chicken into bite size cubes and set aside. *You can also opt to cut up and then cook the already – cubed chicken. I just find the chicken juicier when cooked whole..
Wash, peel, and cut potato into cubes. Microwave for 1-2 minutes..
Cook cubed potatoes and frozen veggies on stovetop according to package directions. Add some extra water and extra time in order to accommodate the addition of the potatoes (dont overcook…you want your potatoes tender and firm). Drain..
In a large bowl, combine soups, milk, thyme, and black pepper. Mix well..
Add veggies and chicken to soup mixture and gently mix together..
Spread evenly in a 4 quart baking dish. Bake for 15-20 minutes, or until it begins to bubble. Remove dish from oven and stir..
Open biscuits and arrange on top of casserole. Bake another 15 minutes or until biscuits are golden brown..
Optionally, if you want a nicer presentation, you can opt to cut each biscuit into quarters before placing them on top of the casserole, cutting almost, but not all the way through the biscuit's bottom..
*** Modified recipe that originates from Campbell's "Fabulous One-Dish Recipes" cookbook (1992) ***.