Chicken wing tip and Potato Stew. Peel the potatoes and remove the eye. Chicken wings sold with wing tips still attached are harder to come by nowadays, as I'm guessing consumers don't really have as much use for them. If you don't like to eat wing tips, save them for your next batch of stock or simmer them directly in the sauce or glaze you're making for the wings.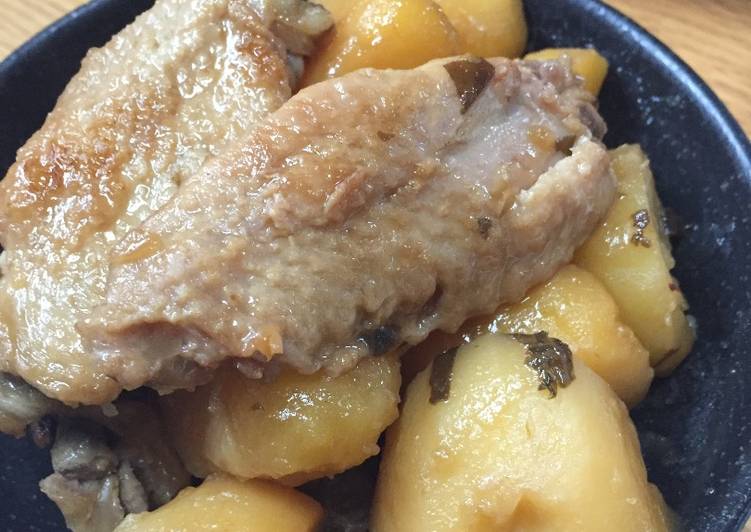 Tips for the Best Instant Pot Chicken Stew. If you really want your potatoes to stay whole as much as possible, place chicken on a trivet and potatoes on top so they. A stew full of not only chicken and potatoes but carrots, onion, mushrooms, mixed veggies and a smattering of herbs and spices. You can cook Chicken wing tip and Potato Stew using 6 ingredients and 4 steps. Here is how you achieve that.
Ingredients of Chicken wing tip and Potato Stew
It's 4 of potato.
It's 10 of chicken wing tip.
You need 400 cc of fish dashi stock.
Prepare 1 tablespoon of sugar.
You need 2 tablespoons of soy sauce.
Prepare 3 tablespoons of cooking sake.
It is fine to substitute chicken broth for chicken stock, simply adjust the salt content. Pro-Tip : Chicken with skin is what i prefer. For my palate it has just enough fat that wont mess up the stew. But if you find skin on chicken pieces is super fatty, please Loaded with veggies, chicken and potatoes, this is the perfect comfort food dish.
Chicken wing tip and Potato Stew step by step
Peel the potatoes and remove the eye. Cut in to 4 pieces. Put into the water..
Heat the vegetable oil in to a pot and cook the chicken over medium heat until it gets brown evenly..
Add the potatoes and all the ingredients. When it comes to a simmer turn it to low heat about 20~30 minutes cover with a lid..
Taste and adjust the seasonings and then turn off the heat. Leave to sit in the pot for a while to let the cooking liquid to be absorbed..
This one's ready in a flash. It's satisfying, too, with chicken, broccoli and new potatoes. MORE+ LESS This easy chicken stew recipe is inspired by flavours of Spain, with spicy chorizo, smoky paprika and peppers. See more Stew recipes at Tesco Real Stir in the tomatoes, chickpeas, potatoes, paprika and stock, ensuring the potatoes are fully covered by the liquid. Bring to the boil, then lower the heat.