Vickys Sticky Caramel Chicken, GF DF EF SF NF.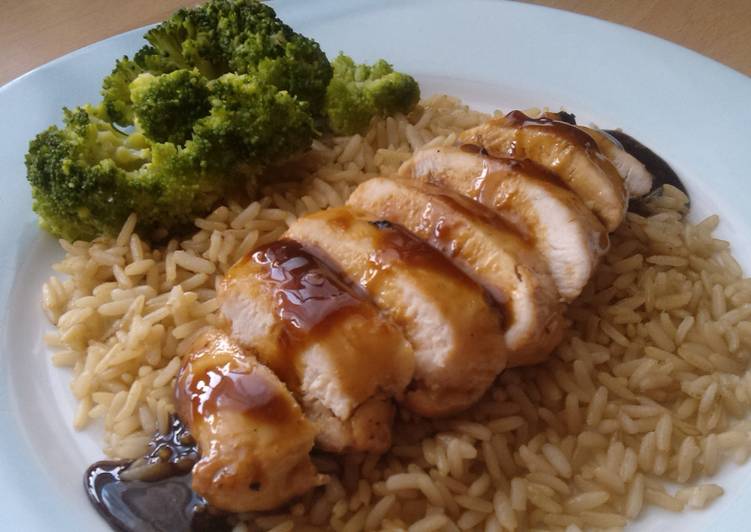 You can cook Vickys Sticky Caramel Chicken, GF DF EF SF NF using 10 ingredients and 8 steps. Here is how you cook that.
Ingredients of Vickys Sticky Caramel Chicken, GF DF EF SF NF
It's 4 of boneless, skinless chicken breasts.
You need 2 tbsp of oil.
You need 8 clove of garlic, peeled but left whole.
Prepare 240 ml of water.
It's 120 grams of brown sugar (1/2 cup packed).
Prepare 480 ml of hot chicken stock.
Prepare 120 ml of rice vinegar.
You need 60 ml of soy sauce – see my free from link below.
It's 2 slice of peeled ginger, about 1/4 inch thick as long as your thumb.
It's 2 of spring onions / scallions, sliced.
Vickys Sticky Caramel Chicken, GF DF EF SF NF instructions
Heat the oil in a frying pan over a medium high heat. Gently pound the chicken so it's an even thickness all over.
Season with salt and cook on each side until golden brown and cooked through, 3 – 4 minutes each side depending on how large. Transfer to a plate and set aside.
Lower the heat to medium low and add the whole garlic cloves to the pan. Cook until golden brown, about 3 minutes. Transfer to the plate of chicken.
Turn the heat back to medium high and carefully pour in the water, scraping down the browned bits from the sides and bottom of the pan.
Whisk in the brown sugar until dissolved then cook until the sauce turns a deep amber colour, about 4 minutes.
Carefully add the vinegar, slices of ginger, garlic cloves, chicken stock and soy sauce and stir in https://cookpad.com/us/recipes/332952-vickys-soy-sauce-substitute.
Bring to the boil and whisk occasionally until thickened. This takes about 15 – 20 minutes. When the sauce is ready and the garlic and ginger are well glazed, turn the heat down to medium low, remove the garlic and ginger and discard, then return the chicken to the pan until heated through.
Serve over rice with some broccoli or green beans and garnish with the spring onions.