Vickys Salted Caramel Tart, GF DF EF SF NF.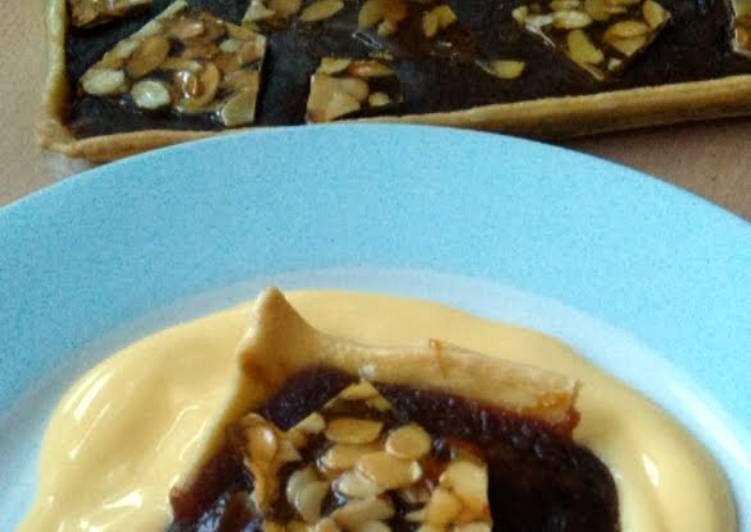 You can have Vickys Salted Caramel Tart, GF DF EF SF NF using 14 ingredients and 17 steps. Here is how you achieve it.
Ingredients of Vickys Salted Caramel Tart, GF DF EF SF NF
Prepare of Tart.
It's 200 grams of Vickys Sweet Shortcrust Pastry, link below.
You need 150 grams of caster sugar.
It's 3 tbsp of water.
Prepare 300 ml of coconut cream.
Prepare 150 grams of light soft brown sugar.
It's 100 grams of butter (I use gold foil wrapped Stork brand for this).
You need 4 tbsp of golden syrup.
Prepare 1 tsp of vanilla extract.
You need 1/2 tsp of sea salt plus extra for topping.
You need of Praline Topping (optional).
Prepare 100 grams of granulated sugar.
It's 2 tbsp of water.
You need 15 grams of flaked almonds.
Vickys Salted Caramel Tart, GF DF EF SF NF instructions
Line a shallow tin, 11"x 7" size, with parchment paper.
Roll out the pastry thinly and line the tin with it, base and sides. Trim and chill in the fridge for 30 minutes https://cookpad.com/us/recipes/332957-vickys-sweet-savoury-shortcrust-pastry-gf-df-ef-sf-nf.
Preheat the oven to gas 4 / 180C / 350°F.
Put a layer of parchment paper over the pastry, pour some baking beans or dry rice on top and bake blind for 15 minutes.
Remove the parchment and baking beans and bake a further 10 minutes until golden. Let cool in the tin.
Meanwhile, put the water and caster sugar in a pan and heat without stirring until the sugar is dissolved.
Bring to the boil for 10 minutes until it turns a rich golden yellow.
Take off the heat and carefully pour the coconut cream in. It'll jump up out of the pan so watch you don't get burnt.
Stir in the brown sugar, butter and syrup and put back onto a simmer for 10 minutes until thickened.
Take off the heat, add the vanilla and sea salt and let cool for 10 minutes before pouring into the pastry case.
Let cool to room temperature then chill in the fridge overnight.
Line a tray with foil and spray it with oil.
For the praline, put the water and sugar in a pan, boil then reduce the heat and swirl (don't stir!) the mixture around the pan until it turns a golden amber colour.
Add in the almonds and swirl the pan again to coat.
Pour the mixture onto the foil and let cool.
To serve the tart, snap the praline topping into shards and sprinkle over the top of the tart with a pinch more sea salt flakes for decoration.
Goes great with hot custard! https://cookpad.com/us/recipes/332987-vickys-vanilla-custard-gluten-dairy-egg-soy-nut-free.