Korean Ground Beef and Rice Bowl. How to Make Korean Ground Beef. I have been cooking with ground turkey and beef often lately. Take these Instant Pot quinoa bowls.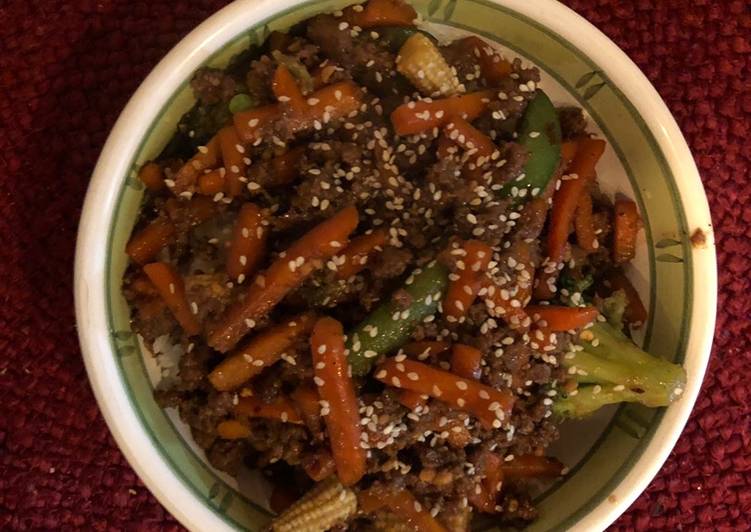 Wrap Korean style ground beef in flour tortillas and add. Try this easy and delicious Korean ground beef and rice bowls recipe this week! This bulgogi spin off dish is perfect for a busy weeknight dinner. You can have Korean Ground Beef and Rice Bowl using 8 ingredients and 4 steps. Here is how you achieve it.
Ingredients of Korean Ground Beef and Rice Bowl
You need 1/2 Pound of Ground Beef.
Prepare 3 Cloves of Garlic.
Prepare 1/4 Cup of Packed Brown Sugar.
You need 1/4 Cup of Soy Sauce.
It's 2 tsp of Sesame Oil.
You need 1/4 tsp of Ground Ginger.
You need 1/4 tsp of Crushed Red Pepper.
It's of Green Onions and Sesame seeds for garnish.
The main difference between bulgogi and today's dish would be that this beef bowl uses less expensive meat than bulgogi – ground beef vs rib eye. This Korean beef bowl is seasoned with green onions, ginger, soy sauce, and sesame and served over brown rice for a quick and easy dinner. Now this recipe is a twist on the traditional Korean dish, bulgogi, but it's a cheater version using ground beef instead of thin slices of sirloin, making this a budget-friendly dish. These Korean Ground Beef bowls are an easy and quick ground beef recipe, perfect for weeknight dinners!
Korean Ground Beef and Rice Bowl step by step
Cook the ground beef and garlic until no longer pink..
In a small bowl, whisk brown sugar, Soy Sauce, Sesame Oil, and Pepper Flakes..
Poor mixture over cooked ground beef and simmer for 2-3 minutes..
Add Veggies of your choosing for full meal..
To make this Korean Beef Bowl, I started with an easy ground beef stir fry – just brown the beef and add the sauce. I served the Korean beef over white rice and topped it with a sunny side up. Korean ground beef and rice is one of the easiest recipes I've ever made. This Korean ground beef bowl dish is perfect for quick lunch or dinner and it's. We're talking a delicious, quick, easy, and budget-friendly dinner!