Chicken Miso Ramen. Heat butter in a saucepan, fry corn until warm. Blanch the spinach and set aside. Bring chicken stock, garlic, ginger and scallions to a boil.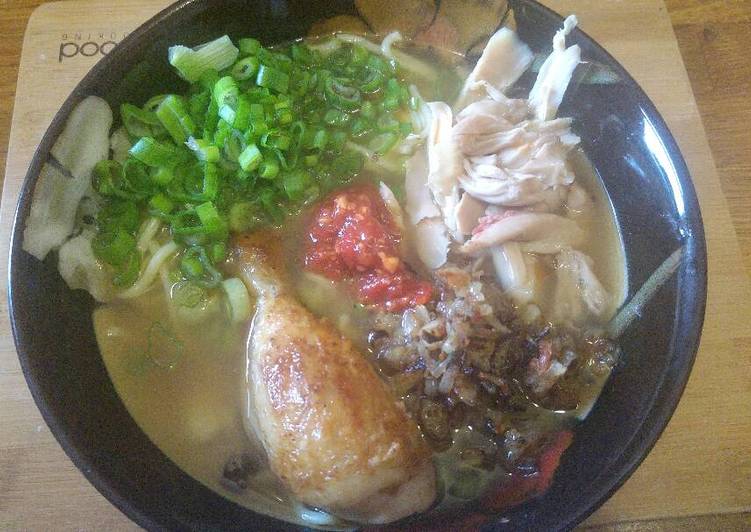 Slowly pour in the rest of the chicken stock, cover, and bring to a boil. Warm up a chilly evening with this healthy chicken-and-vegetable ramen noodle bowl recipe. For a little spice, top with hot sauce, such as Sriracha. You can have Chicken Miso Ramen using 21 ingredients and 13 steps. Here is how you cook it.
Ingredients of Chicken Miso Ramen
Prepare 2 lbs of chicken scraps (feet, necks, carcasses or wings).
You need 3 inch of piece of ginger sliced.
Prepare 200 g of shiitake mushrooms.
Prepare 2 of onions, halved, skin on.
Prepare 1 tbsp of salt.
It's 1/2 cup of miso paste, divided.
Prepare 1 bunch of green onions, whites and roots only.
You need 2 of chile peppers, halved and seeded.
You need 1/2 cup of sesame oil, divided.
Prepare 1 lb of chicken drumsticks and thighs.
It's 1/2 cup of sake.
Prepare 3 of shallots, thinly sliced.
Prepare 8 cloves of garlic, thinly sliced.
It's 1/4 cup (4 tbsp) of soy sauce.
You need 1 tbsp of fish sauce.
It's 1/4 cup (4 tbsp) of miso paste.
It's to taste of salt.
Prepare 1 bunch of green onions, thin sliced, whites an greens divided.
Prepare 800 g of precooked ramen noodles.
Prepare 1/2 cup of chili paste.
It's 1/4 cup of chili oil.
Look for dried curly Chinese-style noodles near other Asian ingredients in most well-stocked supermarkets. For a substitute, try whole-wheat angel hair pasta and cook for a few minutes longer. How to get the perfect soft-boiled ramen egg: In a small pot, bring water to a boil. Ladle the broth and chicken over the noodles and top with the eggs.
Chicken Miso Ramen instructions
If you don't have time to make broth (6-8 hrs) you can skip steps 1-5 and just use premade chicken broth, this isn't recommended though. If you arr making broth start by blanching the chicken scraps by dumping them in a pot full of water and bringing it to a boil..
You should get this mess at the top of your bowl. Scoop that stuff off, then drain the water and add enough fresh water to submerge ther chicken scraps..
Place over high heat. Add onions, chile peppers, mushrooms, ginger, green onion whites, miso paste and salt and bring to a boil. Then reduce to a slow simmer. Let that cook for 6-8 hours. Add water as the level drops at about the rate of two cups per hour. You should also use a ladle to skim the fat off the top of this broth, however don't overdo it. I only start to remove fat as the globules get bigger than a quarter. I think asian broths benefits from a fair amount of animal fat..
At the end of the simmer time,use a colander to remove the big stuff from the broth. Then to further clarify the broth, pour through a strainer lined with 2 layers of cheese cloth. You can see the kind of gunk you can pick up in the picture below..
Now you have your clarified broth. Thos should make about 10 cups. So if you have more liquid continue to boil until you've concentrated your broth down. At this point you can refrigwrate your broth for up to 5 days or freeze for up to a month..
When ready to eat some ramen season 1 pound chicken drumsticks and thighs with salt and garlic powder. Heat 1 tbsp sesame oil in a large sauce pan over medium-high heat..
Cook until golden brown on the outside and cooked all the way through (about 15 minutes). Set aside and shred half the chicken when they're cool enough..
While the chickens cooking prepare the fried shallots and ginger. Heat 1/2 tbsp sesame oil over medium heat in a heavy bottom pan until oil smokes. Add garlic and shallots and continuously move around until burnt bits begin to develops, about 2 minutes. Remove from heat and set aside..
Pour sake into the pan and scrape up any brown bits stuck on the bottom..
Pour broth into bowl and combine with green onion whites, soy sauce, fish sauce, miso paste and salt to taste. Bring to a boil..
Divide noodles amongst bowls (should make about 5 bowls)..
Pour broth over noodles and let cook about 90 seconds..
Serve with the remaining green onions, fried shallots and garlic, shredded and whole chicken legs or thighs, sesame oil, chili oil and chili paste..
Add ginger miso dressing, stock and soy sauce. Cover and bring to a boil. Add bok choy leaves and reduce heat to a low simmer. Add chicken and noodles to soup and simmer just until chicken is heated through. Season with a pinch of sea salt and a small pinch of.