Roasted Half Chicken with Chickpea and Gigande Hoppin' John. Roasted Half Chicken with Southern Hoppin' John. Ingredients: Roasted half chicken, Olive oil, Bacon, Scallions, Celery, Vinegar, Butter, Chicken Stock, Canned chickpeas, Garlic, Red pepper flakes, Rice, Bay leaf, Onion, Collards, Kale, Canned gigande, Parsley. Serve it with chickpeas and some cherry tomatoes.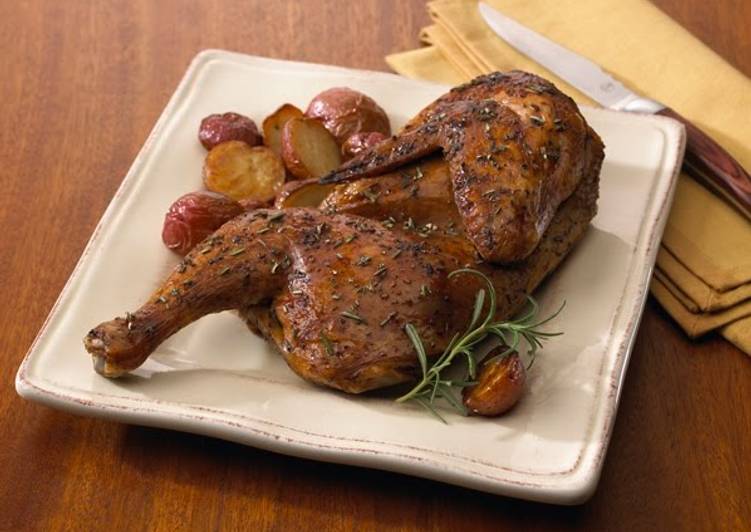 After browning both half chickens, I put them on a sheet pan with some lemon and rosemary. The lemon and rosemary don't flavor the chicken, they just make the house smell amazing while the. Top with parsley and serve with lemon wedges for squeezing over. You can cook Roasted Half Chicken with Chickpea and Gigande Hoppin' John using 21 ingredients and 26 steps. Here is how you achieve it.
Ingredients of Roasted Half Chicken with Chickpea and Gigande Hoppin' John
It's 1 of Whole Chicken (cut in half).
It's 2 of Bay Leaves.
You need 1 of 15.5oz Chickpeas, canned.
You need 1 of 15.5oz Gigande Beans, canned.
Prepare 2 tbsp of Salt.
It's 4 cup of Kale, thick stems removed.
Prepare 4 cup of Collards, thick stems removed.
You need 4 of sliced Bacon or Country Ham, diced.
Prepare 1 tbsp of Olive Oil.
You need 1 of Onion, diced.
Prepare 4 of Celery Stalks, diced.
You need 2 of Garlic Cloves.
It's 1/4 cup of Cider Vinegar.
You need 1 tsp of Red Chili Flakes.
You need 2 cup of Stock (chicken or vegetable) divided.
It's 2 tbsp of Butter.
Prepare 2 cup of Rice, cooked.
Prepare 1 tbsp of Scallions.
You need 2 tbsp of Parsley, chopped.
You need 1 of Salt.
You need 1 of Pepper.
While the dish roasted, I cleaned everything up. If you have chicken and chickpeas, just use whatever other. Canned chickpeas are seasoned and roasted to a crispy, crunchy finish. This is the way I used to eat roast chicken in France.
Roasted Half Chicken with Chickpea and Gigande Hoppin' John step by step
Season the chicken halves with salt, pepper, and thyme..
Place your chicken halves into a sous-vide pouch with a few sprigs of rosemary..
Vacuum seal the bag and cook in a water bath at 64 C (147.2 F) for approximately 1 hour and 30 minutes **Time and temperature is referenced from Thomas Keller?s Under Pressure sous-vide book**.
Dice onion and celery, mince the garlic..
Wash the collards and kale; remove any thick stems..
Cut the collards and kale into thin strips..
Dice the bacon..
Heat olive oil in a small Dutch oven or stock pot..
Add the bacon, cook until crisp..
Remove bacon and all but 2 table spoons of oil..
Add onions and celery..
Cook until onions and celery are tender..
Add the garlic; continue to cook until fragrant..
Add collards and kale to pan, toss to blend..
Add 2 cups of stock, bring to simmer; toss to blend..
Cook until collards and kale are just tender..
Add the beans and bacon, toss to blend..
Add the vinegar, chili flakes, and season with salt and pepper..
Bring to simmer and cook for 5-10 minutes..
Add butter and hold warm..
Chop the scallions and parsley, and set aside..
Preheat oven to 375..
Remove chicken from pouch. Place in roasting dish..
Place in oven to heat up more until hot..
Place rice on serving plate, top the rice with Hoppin John. Transfer chicken leg to plate..
Top with scallions and parsley..
By slipping a beautiful tarragon butter under the skin, you not only keep the breast moist, but all that flavour gets absorbed by the chickpea stuffing as well. Take the stuffing out after cooking and mix in the cooked garlic and some of the vinaigrette and. For hands-off cooking, you'll roast chicken (simply seasoned with paprika, garlic powder, and more) at the same time as your side of vegetables. It's served with a duo of easy sauces: a flavorful spin on Niçoise tapenade gives a bright lift to the roasted vegetables. To serve, spoon the chicken and sauce onto a plate and crumble over the.