Blue Ribbon Chocolate Chip Cookies. These Yummy Mini Chocolate Chip Cookies Are Made With Real Chocolate. The original Mrs Fields blue ribbon chocolate chip cookies calls for semi-sweet chocolate chips, of course. I used milk chocolate which were fantastic.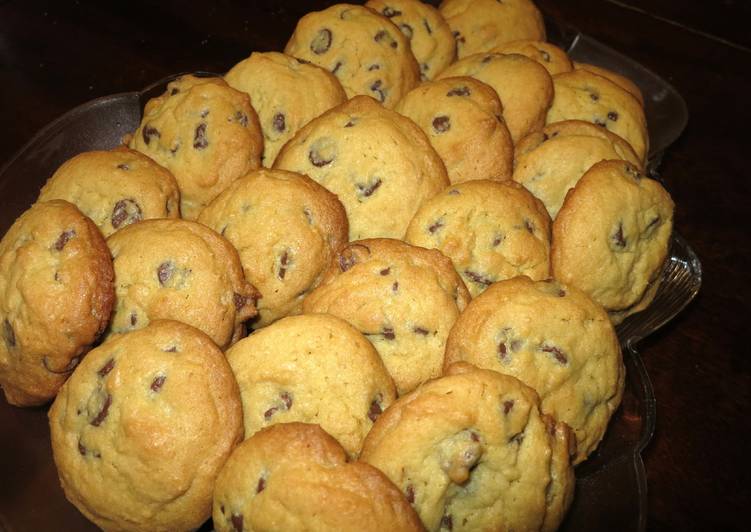 This is a nice chocolate chip cookie recipe that I found in Mrs. Blue Ribbon Chocolate Chip Cookies Blue Ribbon Chocolate Chip Cookies. Fields Blue Ribbon Chocolate Chip Cookies. You can cook Blue Ribbon Chocolate Chip Cookies using 9 ingredients and 6 steps. Here is how you achieve that.
Ingredients of Blue Ribbon Chocolate Chip Cookies
It's 1 cup of Butter, softened.
Prepare 3/4 cup of Brown Sugar, packed.
Prepare 1/4 cup of Sugar.
You need 1 packages of 3.4 oz Instant Vanilla Pudding Mix.
Prepare 2 of eggs.
It's 1 tsp of Vanilla Extract.
Prepare 2 1/4 cup of All-purpose Flour.
You need 1 tsp of Baking Soda.
It's 2 cup of Semisweet Chocolate Chips.
If you've always aspired to make Mrs. Fields chocolate chip cookies in your own kitchen, this recipe is just what you've been waiting for. And, as a bonus, this copykat Mrs. Fields chocolate chip cookie recipe will save you that trip to the mall!
Blue Ribbon Chocolate Chip Cookies step by step
In your mixer, cream together the butter and both sugars..
Mix in the vanilla pudding powder and bring together..
In a small bowl, whisk together the eggs and vanilla extract. Slowly stream into the mixture while the mixer is running. Fully incorporate..
Sift together the dry goods and add to mixer, slowly. Work in batches. Remove from mixer when fully incorporated..
Add in the chocolate chips. I use one full bag, which is about 2 cups. Do this by hand so you don't break the chips. I like a big wooden spoon for the job..
Dish onto parchment paper or silpat. Bake at 350°F for 12 minutes..
These chocolate chip cookies get their name from winning first prize at the Brooklyn (Connecticut) Fair. Add the flour mixture and chocolate chips, and blend on low speed just until just barely mixed. Immediately transfer cookies with a spatula to a cool, flat surface. Line baking sheets with parchment paper. Cream butter, sugars, eggs and vanilla, in a large bowl at medium speed until light and creamy.; Combine flour, baking soda and salt in medium mixing bowl.