Skillet chocolate chip cookie. This Vegetarian-Friendly Recipe Will Satisfy your Chocolate Craving. Pin To Your Board These Yummy Mini Chocolate Chip Cookies Are Made With Real Chocolate. Skillet Chocolate Chip Cookie Skillet Chocolate Chip Cookie.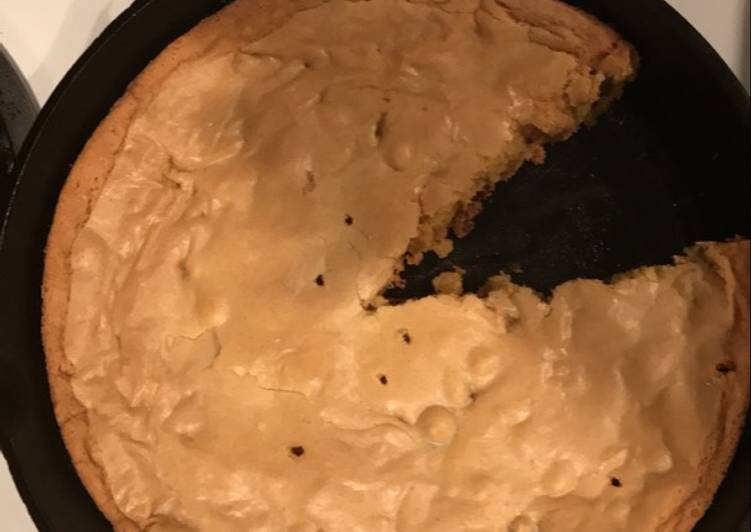 Stir until there are no lumps. Add in vanilla, egg and yolk. Skillet cookie, cookie sundae, pizookie—no matter what you call it, one thing is certain: warm cookie + ice cream = dessert perfection! You can cook Skillet chocolate chip cookie using 9 ingredients and 8 steps. Here is how you achieve that.
Ingredients of Skillet chocolate chip cookie
Prepare 6 TBSP of unsalted butter.
Prepare 1/2 Cup of granulated sugar.
You need 1 Tsp of pure vanilla extract.
You need 1/2 teaspoon of baking soda.
You need 1 cup of semi-sweet chocolate chips.
It's 1/3 cup of dark brown sugar.
Prepare 1 of large egg.
You need 1 cup of all purpose flower.
Prepare 1/2 Tsp of coarse salt.
It's hard to beat that view below. The vanilla bean ice cream slowly melting into every nook and cranny of melted chocolate, chewy cookie dough and crunchy sea salt. Cast iron has always been a go-to tool in our kitchen, and it can come through in a big way when making chocolate chip cookies—namely, our new favorite deep-dish skillet cookie. Try it for yourself and let us know how you like the chewy, chocolatey results.
Skillet chocolate chip cookie step by step
Preheat oven to 350 Degrees..
In a large bowl, Combine Butter and Sugars with a wooden spoon..
Stir in egg and vanilla..
Stir in flour, baking soda, and salt. Stir in chips..
Transfer to a lightly greased 10-inch cast iron skillet, smooth top..
If you don't have a skillet, Use a 9 inch baking pan..
Bake until golden brown. (18-20minutes).
Let it cool for about 5 minutes!.
And for tips on taking care of your cast iron, check out our how-to guide. Wipe skillet clean with paper towels. Transfer dough to now-empty skillet and press into even layer with spatula. In a medium bowl, whisk together flour, baking soda, and salt; set aside. Cream together the butter, brown sugar and granulated sugar in a large bowl.