Crockpot Mexican Chicken Chili. Chicken Taco Chili is one of my favorite chili recipes! Crockpot Chili (Rave Reviews!) Crockpot Mexican Quinoa Tacos. A delicious Mexican crockpot chicken and corn chowder that has the same delicious flavors of Mexican Street Corn!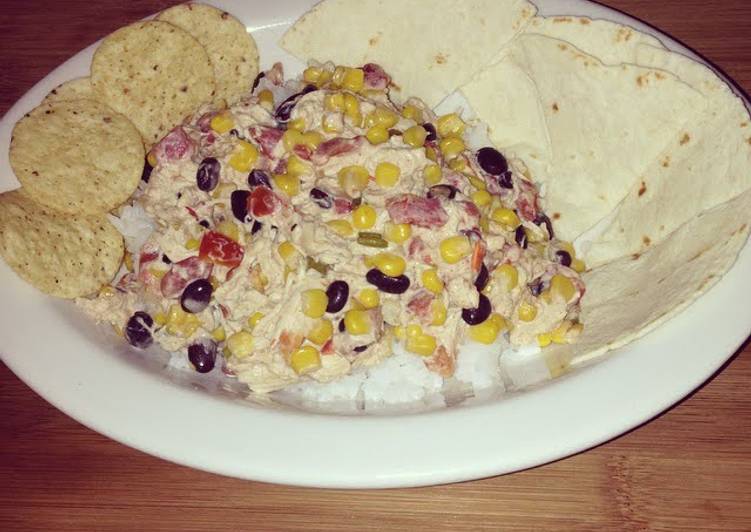 Packed with flavor and super tender thanks to hours in the crock pot, this recipe is sure to please! We have tacos in some variation or another a couple times a month. Easy Slow Cooker Shredded Mexican Chicken simmered with Mexican spices, salsa and green chilies for amazingly flavorful chicken for tacos, burritos, nachos, soups, salads, etc. and all you do is dump and run! You can cook Crockpot Mexican Chicken Chili using 13 ingredients and 7 steps. Here is how you achieve it.
Ingredients of Crockpot Mexican Chicken Chili
It's 2 can of MILD Rotel.
It's 2 can of Mexican corn only-it has great flavor with bell pepper in it.
It's 1 box of Cream cheese.
It's 1 of Shredded chicken or rotisserie chicken with skin removed and shredded.
It's 2 can of Black beans-drained and washed.
It's 1 envelope of Taco Bell taco seasoning- use this kind it has better flavor than El Paso.
It's 1 of Yellow onion finely diced.
You need 1 of Several Green onions finely diced.
Prepare 1 of Fresh diced cilantro.
You need 1 of Garlic-powder or minced.
Prepare 1 of Salt and cracked black pepper.
It's 1 of Queso dip-optional.
You need 1 of Shredded Mexican blend cheese-optional.
You NEED this in your back pocket! Perfect for easy burritos, tacos, and enchiladas. I started to worry that my chicken was getting dry, so I took it out when it was done and just let it chill (yep) in the refrigerator while the beans cooked their slow selves away. Mexican Chicken Soup in the Slow CookerAndie Mitchell. garlic, smoked paprika, chili powder, onion, ground cumin, great northern.
Crockpot Mexican Chicken Chili step by step
I layered mine in crockpot, starting with Rotel, then 1 can of each, as well as half of the veggies, and half taco seasoning, then repeated with the rest..
Continue to layer it with 1 can of each and rest of taco seasoning and diced veg/herbs. Then add the shredded chicken on top, since it's already cooked. Set to high..
Top with cream cheese. Make sure to cut into pieces and put them evenly throughout on top all around. Once it starts melting, give it all-A GOOD STIR. Then add the garlic powder, salt and cracked pepper. Stir again. And continue to check on it from time to time and stir, making sure the cream cheese has no lumps:).
Once all the cream cheese has completely melted and no lumps…change setting to low and let simmer for an hour or 2.
Once done, give it a good stir again. And it should look like this:) also…see my next direction for tips, etc about the queso and shredded cheese..
Tips: Tip 1:If you can't find the Mexican corn, you can get 2 cans of the whole kernel corn and add a jar of chunky salsa but really try to find the can Mexicorn (it has awesome flavor) Del Monte and green giant brands have it. Tip 2:I made steamed rice, and added taco seasoning to the water and stir it before I put in my rice cooker. Tip 3: once rice is done, add your rice to your plate, top with the crockpot mixture, and you can top it with queso dip, shredded Mexican blend cheese, some of the green onions, and a lil fresh cilantro if you had any of the green onions and cilantro left. You can also just do this instead of adding the queso and shredded cheese to crockpot..
Also, you can serve with rice as I listed above, tostitos, or cut some tortilla bread in triangles, or make a taco or quesadilla out of it..
Creamy with plenty of spice, it's the perfect companion on a chilly night! Crockpot Mexican Shredded Chicken could not be easier to prepare with just a few ingredients all made in the slow cooker. Chicken breasts are slow cooked with your favorite salsa and spices that results in deep flavor that cooks into the chicken to make it tender and moist enough to shred. This Crockpot Mexican chicken soup is fresh, tangy, and comforting. Set it and forget it, and you'll come back home to a wonderful healthy homemade soup!