Slow cooker curry chicken and vegetables. In the bottom of the slow cooker, whisk together light coconut milk, tomatoes, curry powder, garlic powder, ground ginger and kosher salt. Add chicken, onion, chickpeas, cauliflower and baby carrots. Mix everything thoroughly to coat in sauce.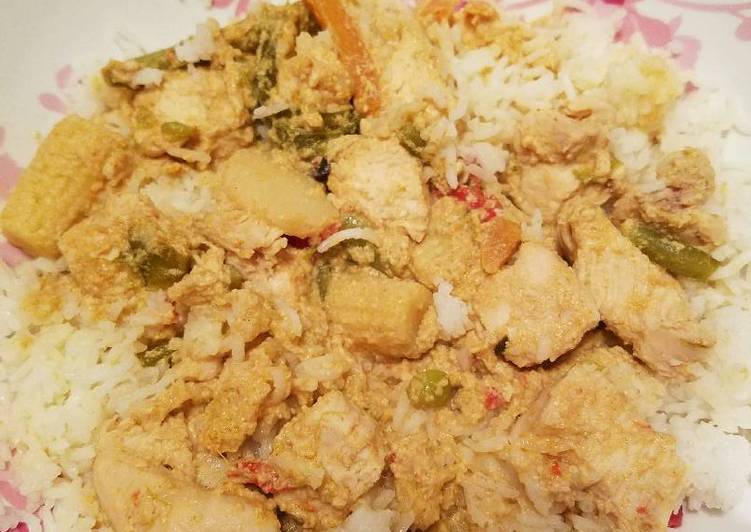 But you can also serve it over another grain, like quinoa. A flat, wide egg noodle would work as a nice base as well. Or, put the dish in a bowl and serve with some nice crusty French bread or rolls and a side salad. You can have Slow cooker curry chicken and vegetables using 6 ingredients and 4 steps. Here is how you cook it.
Ingredients of Slow cooker curry chicken and vegetables
You need 1 lb. of chicken breast, cut in 1 1/2 inches pieces.
Prepare 1 can (14.5 oz) of coconut milk.
Prepare 3 Tbsp. of red curry paste.
It's 3 Tbsp. of brown sugar.
You need of lime juice (approx. 2 Tbsp).
It's 1 package of frozen Asian medley vegetables*.
This Slow Cooker Chicken and Vegetable Curry is a one-pot curry meal complete with vegetables. It looks just as tempting and delicious! I have been putting my slow cooker to good use ever since I pulled it out of the lower shelf of the corner kitchen cabinet. It does get a little busy in the morning preparing the ingredients but once everything is in the slow cooker, it pretty much takes care.
Slow cooker curry chicken and vegetables step by step
Combine coconut milk, red curry paste, sugar and lime juice together in the slow cooker..
Add chicken and vegetables* to the slow cooker and stir well to combine. (*If using a medley with broccoli, add vegetables during the last hour of cooking so the broccoli doesn't overcook.).
Cook on low for approximately 4 1/2 to 5 hours. Start checking on it after 4 hours to avoid drying out the chicken..
Serve over rice. Garnish with lime wedges and/or cilantro, if desired. Add salt to taste to balance out the sweetness if you prefer..
This Slow Cooker Chicken Curry & Vegetables Recipe is an easy & delicious healthy dinner full of sweet potatoes, cauliflower, and peas. I absolutely love the taste of curry and making this recipe in your slow cooker makes it even easier! I want to start this post by saying that this recipe is very veggie-heavy. Try this easy coconut curry in your slow cooker with sweet potato, green beans, bell pepper, and onion.. turmeric, and cayenne pepper in a small bowl. Pour into slow cooker and stir into chicken and vegetables.