Ultra moist banana bread. The recipe for moist and delicious banana bread is super easy. A scoop of sour cream gives this one-bowl banana bread that ultra-moist, slightly underbaked texture we all know and love. This Ultra Moist Banana Bread recipe will forever hold a special place in my heart.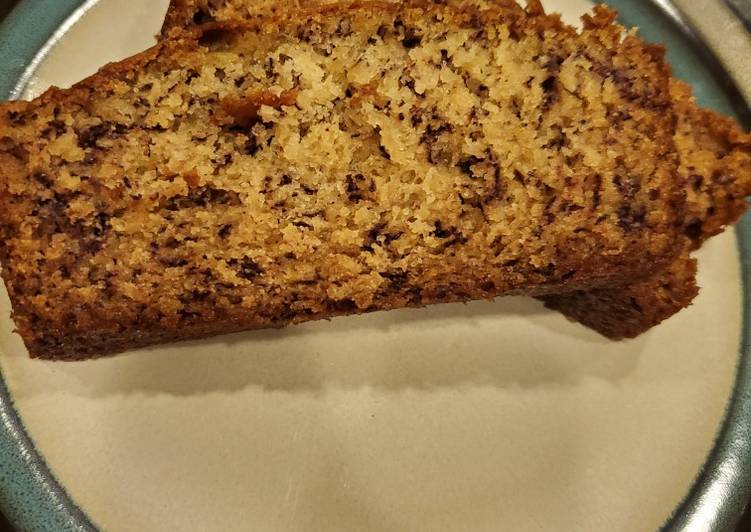 Ultra moist banana bread Like and subscribe Enjoy the video! This Healthy Banana Bread recipe is SUPER moist, made with four bananas, extra-virgin olive oil, and whole wheat flour! The trick to making ultra-moist, healthy banana bread is to use extra-virgin olive oil and FOUR WHOLE BANANAS, with both white and whole wheat flour in the recipe! You can have Ultra moist banana bread using 11 ingredients and 5 steps. Here is how you achieve it.
Ingredients of Ultra moist banana bread
It's of Wet ingredients.
Prepare 4 of over ripe bananas smashed.
You need 1/2 C of butter at room temp.
You need 2 of eggs.
You need 1 tsp of vanilla.
It's 1/2 C of sour cream.
You need of Dry ingredients.
You need 1 1/2 C of flour.
Prepare 1 tsp of baking soda.
It's 1/2 tsp of salt.
It's 1 C of sugar.
In a large bowl beat wet ingredients together with electric mixer. These bananas are ready for banana bread! Today I was craving banana bread but I wanted it to be EVERYTHING that these two recipes had. I wanted that old fashioned cinnamon-brown sugar-banana flavor, I wanted it to have that slight crunch on the outside yet crazy moist, fluffy, & dense on the inside.
Ultra moist banana bread instructions
Preheat oven to 350°.
In a large bowl beat wet ingredients together with electric mixer..
Sift dry ingredients in with wet and fold in until you have a smooth batter..
Pour batter into a greased 1.5 quart baking dish..
Bake for 1 hour and let cool before serving..
So what's the real secret to moist banana bread? If you ask me, it comes down to a trifecta of ingredients: Brown Sugar: Swapping out a portion of regular sugar for brown sugar adds a touch of This recipe for The Ultimate Moist Banana Bread is all that and a bag of chips glass of cold milk. Paleo Banana Bread is super moist, delicious and easy to make. Even better – it only takes one bowl! It's gluten-free, grain-free and dairy-free and the perfect morning nibble to enjoy.