Mediterranean Inspired Chicken Stew with Olives, Tomatoes & Potatoes. Allstar Mediterranean chicken recipe that is healthy, bright & packed with classics like garlic, lemon, tomato and olives. One-Skillet Mediterranean Chicken Recipe with Tomatoes and Green Olives. Browning the chicken adds another layer of flavor to this hearty stew.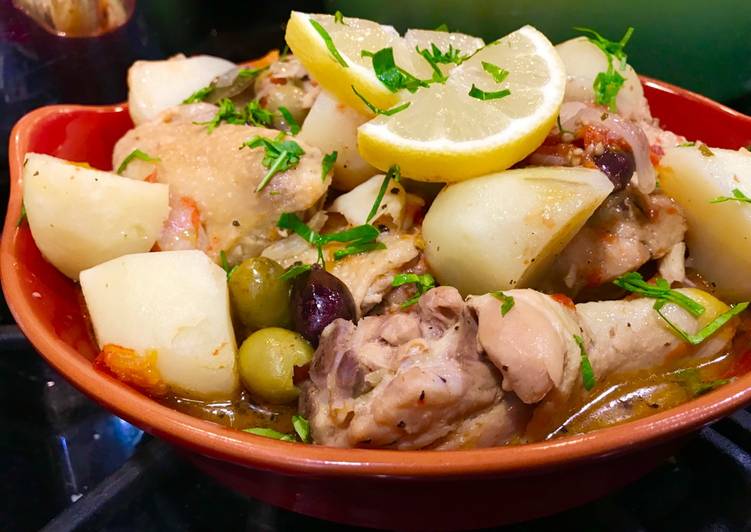 Buy the ingredients for our Mediterranean lamb stew with olives recipe from Tesco today. Try this Mediterranean chicken recipe, which is low in saturated fat and rich in flavor. Mediterranean chicken is a Greek inspired chicken dish made with chicken, olives, capers and tomatoes. You can have Mediterranean Inspired Chicken Stew with Olives, Tomatoes & Potatoes using 17 ingredients and 6 steps. Here is how you achieve that.
Ingredients of Mediterranean Inspired Chicken Stew with Olives, Tomatoes & Potatoes
Prepare 3 pounds of chicken pieces (I like bone-in, skin on).
It's 2 teaspoons of salt.
It's 1/2 teaspoon of ground black pepper.
You need 1.5 Tablespoons of flour.
It's 1 Tablespoon of oil.
You need 1 of onion, cut into 1/2" wide slices.
It's 3 cloves of garlic, peeled and smashed.
Prepare 3 of fresh tomatoes, cut into sixths.
You need 1 of bay leaf.
You need 1 Tablespoon of dried oregano (or 2 to 3 Tablespoons chopped fresh).
It's 2 cups of unsalted liquid (any combo of water, dry white wine, or chicken or veg stock).
Prepare 12 of olives.
It's 2 Tablespoons of olive brine.
You need of zest of half a lemon (optional).
Prepare 2 Tablespoons of lemon juice.
You need 1 pound of potatoes, peeled and cut into 1.5-inch cubes.
Prepare of chopped fresh parsley for finishing.
There are tons of recipes with different ingredients. Chicken stifado (Greek chicken stew) is one of the most flavorful Greek dishes of all. The combo of cinnamon and orange compliments meat perfectly and make this dish homey and warm. The pearl onions are essential because they soak up all the flavor of the meat and spices.
Mediterranean Inspired Chicken Stew with Olives, Tomatoes & Potatoes step by step
Season chicken pieces with the salt and pepper and then dust on both sides with the flour..
Preheat pot to medium high, add oil, then brown chicken, 4 to 5 minutes a side, or until each side is golden brown. Remove chicken from pot and set aside..
Add onion and garlic and saute for about 3 minutes until onion turns translucent. Then add tomatoes, bay, oregano, and lemon zest, give it a stir, and let the herbs bloom for a minute or so..
Add the chicken back along with olives, olive brine, liquid (stock or water). Give it a gentle stir and adjust salt seasoning if needed. Turn heat down to medium, cover, and simmer for 20 to 25 minutes, stirring occasionally..
Add potatoes and try to submerge them as under the liquid as much as you can. You might like to add another 1/4 to 1/2 teaspoon of salt to lend a little extra seasoning for the potatoes. Simmer, with lid askew for another 20 minutes or so, stirring occasionally..
Sprinkle with fresh chopped parsley (and maybe add a couple of lemon wedges for squeezing onto the chicken right before eating). Enjoy with your choice of pasta, rice, or crusty bread. :).
This Mediterranean-inspired salad is loaded with chickpeas, oregano, Kalamata olives, tomatoes, feta, and much more for a filling and savory side dish. Chicken teams with seasoned stewed tomatoes and green beans in this wonderful, easy Italian meal. This Mediterranean-inspired roast chicken is a delicious variation on the dish. Briny olives give it a mouthwatering, unique flavour that pairs wonderfully Place the chicken on a rack in a small roasting pan. Combine the salt, fresh ground pepper, fennel seed, marjoram, garlic, half of the olive oil, wine.