Parmesan Potato Wedges. I recommend serving these Parmesan potato wedges alongside a salad for a light lunch or serving them as a side dish with a chicken or beef entree. —Beth Ask, Ulster, Pennsylvania. The healthy way to get your French fry fix. Add to baking sheet and top with olive oil, garlic powder and Italian seasoning and.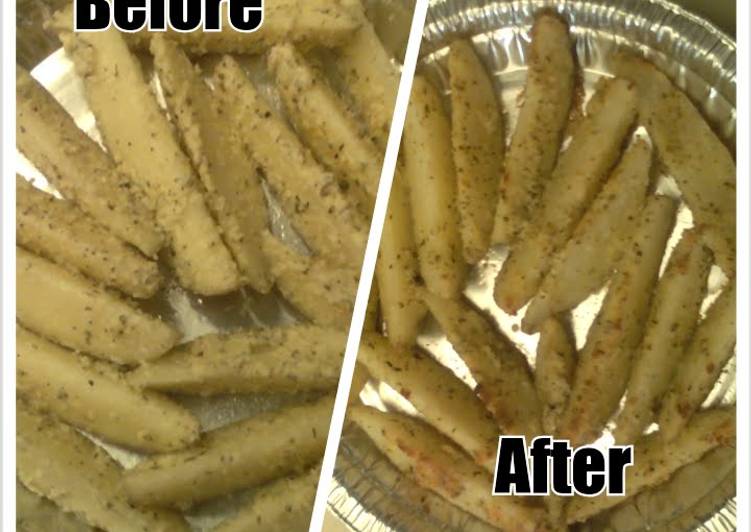 These Parmesan Potato Wedges are a hybrid between a baked potato and French fries – the best of both worlds. They are much healthier alternative to French fries yet still baked in the oven just like a. They are a great side dish, snack or appetizer. You can cook Parmesan Potato Wedges using 5 ingredients and 7 steps. Here is how you cook that.
Ingredients of Parmesan Potato Wedges
You need 1/3 cup of Parmesan cheese.
It's 1/2 tsp of Italian Seasoning.
Prepare 1/4 tsp of Salt.
It's 1 1/2 tbsp of Olive Oil.
You need 3 medium of potatoes.
Enjoy with ketchup, guac, or mayo. Baked Parmesan Potato Wedges has some garlic kick. It's the perfect side dish for almost any everyday meal but will kick it up a bit for that special meal. Baked potato wedges with parmesan and garlic – crispy, cheesy, garlicky, salty, and perfect for dipping in ketchup or your favorite sauces.
Parmesan Potato Wedges instructions
Preheat oven to 350.
Cut each potato into 8 wedges.
Put parmesan cheese, italian seasoning, and salt in a ziploc bag. Close bag and shake well to mix ingredients..
Add 1tablespoon on olive oil to parmesan cheese. Mix well.
Toss potato wedges in 1/2 tbsp on olive oil. Add potato wedges to the bag and shake well. Make sure all wedges are coated the cheese..
Lay wedges flat on a pre-oiled pan..
Bake until potatoes can be easily pierced with a fork(About 25 mins dependin on size of wedges).
These potato wedges are our favorite fries! Here's a video that shows you how to make them How to Make These Tasty Potato Wedges. These potato wedges are tossed in a olive oil based spice rub filled with fresh garlic then topped with shredded parmesan cheese. Add in onions, seasoning, salt, pepper and stir. Toss potato wedges in the mixing bowl with parsley and cheese.